THE PRODUCERS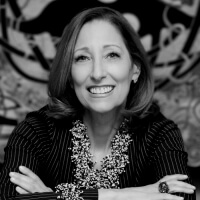 JULIE ROSE
President & Founder
Julie's trendsetting concessions on and off Broadway are a result of her extensive background in theater. Moving to New York to write for musical theater, Julie attended the prestigious BMI Lehman Engel Musical Theater workshop which laid the foundation for her beloved Sweet Hospitality Group.
As she reinvents the world of concessions, Julie embodies the ethos of Broadway with every show-inspired cocktail and gourmet savory, feeding the senses in endless, imaginative ways.
Under her leadership, SHG created the souvenir cup that debuted at The Lion King show at the New Amsterdam Theatre. The popularity of this innovation rapidly made it an industry trend.
Too ambitious to limit her creative dexterity, Julie expanded SHG's unparalleled service to include best-in-show catering. Over thirty years later and quickly gaining notoriety, SHG has expanded to 26 theaters with over 100 employees.
When she's not mastering her trade, she serves on the Education Council for the Manhattan Theatre Club and is a board member for the Harlem School of the Arts and Playing on Air.
WILSON GIAMPIETRI
VP of Catering / Executive Chef
Wilson cooks with wild imagination, making him a true innovator in the kitchen.
He began his career in his native Brazil, pursuing his passion for the art of cooking. When Wilson made his move to New York City, he worked elbow-to-elbow with some of the most critically-acclaimed pioneers in the catering and restaurant industry, including Danny Meyer.
Wilson explores fearless flavor and makes food that is equal parts picturesque and palatable. His menu always delivers on the company's mantra, "a dramatic departure from ordinary".

Let us make your next event

a dramatic departure
from ordinary