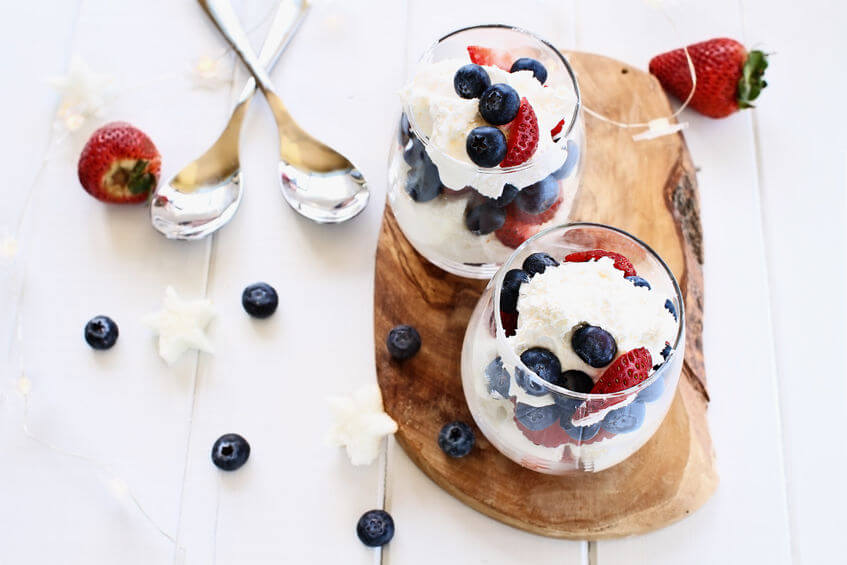 At SHG we love any occasion that calls for a themed party, especially on a warm, sunny day like the 4th of July. From American inspired décor to a light, summer dessert, you can wow your guests with just a few simple touches.
Setting the Table
A long wooden farm table with wicker chairs will leave your guests feeling at home and relaxed, while also giving off a rustic American feel.
Red, white, and blue are, of course, the classic colors for a 4th of July party, but we prefer to use them in subtle yet innovative ways. Dressing the table with a crisp white runner will make your food stand out while still showing off the texture of the table. Deep red napkins add a subtle pop of color, while centerpieces of blue hydrangeas come together to complete the patriotic palette.
An eclectic assortment of serving pieces like wooden bowls, wicker baskets and simple white platters not only showcase your food beautifully, but also invoke a "melting pot" vibe.
All-American Accents
Recycling found objects is a great way to add more vintage character to your celebration in an organic way. Mason jars or empty jam jars wrapped in twine or colored raffia make great candle holders. You can also fill them with fairy lights to evoke fireworks. Use an assortment of empty bourbon bottles as water pitchers or to serve pre-batched cocktails. The possibilities are endless. Use your imagination and have fun with it!
Sweet Endings
We love our sweets and no party is complete without a dessert; but, the 4th of July is no time for baking (especially this year!)
Mixed berries are always a refreshing, no-oven-required option that also stays on theme.  Layer them with whipped cream to make a simple, yet elegant parfait. Want to add a little more patriotic pop? Use a small star-shaped cookie cutter to make pound cake stars to add to the mix!