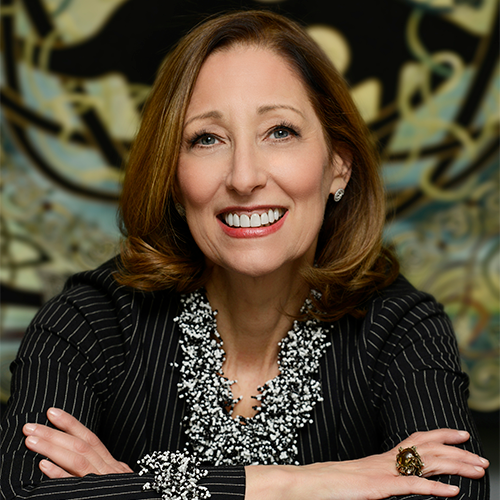 JULIE ROSE
President & Founder
Julie began SHG with a vision to elevate theater bars by introducing a yet-to-be-seen array of sweets, savories and beverages. Her unique sense of style, unbridled passion for food (particularly chocolate chip cookies of which she is a connoisseur) and dedication to genuinely hospitable service (with a smile, of course) made that vision a reality and revolutionized the Broadway concessions business.
A proud Midwesterner, Julie still remembers being intimidated when she first arrived in the "Big City". She saw being nice to the customer as a rarified commodity at the time. This inspired her to make being "sweet" the heart of SHG's signature brand of service to make theater more welcoming to everyone.
When she first walked into the Mitzi E. Newhouse Theater in 1986 (a tray of freshly baked brownies in one hand and a vase of floral arrangements in the other), Julie never imagined she would one day manage a company of 200 employees in 18 theater venues. However, with her perseverance, passion and Virgo perfectionism, it's not really all that surprising how much SHG has grown.
Throughout the years, Julie has built an amazing team who have helped expand her original concept and create ground-breaking offerings including show-themed cocktails, souvenir show cups, eye-catching product displays and SHG's intermission brand snacks (yes, SHG did all those things first). Today, theater-goers at shows from Disney's Aladdin to Hadestown to Moulin Rouge enjoy an "enhanced experience" because of these innovations.
Julie is an accomplished pianist and attended the BMI Lehman Engel Musical Theatre Workshop as a composer/lyricist. When she's not seeking out the perfect baked goods or running around the office brainstorming new ideas (leaving notes and news clippings for everyone in her wake), she still enjoys her passion for music, creativity and playing cards.
Julie's favorite theater role was at Webster College backstage for A Little Night Music at the Repertory Theatre of St. Louis. She ran the fog machine and had convinced herself that if she messed up the entire production would be ruined. Of course, everything worked out just fine (no one stumbled blindly into the orchestra from too much fog). That same drive and sense of responsibility to her teammates, clients and patrons has propelled her and SHG to be where they are today.